Bespoke Leather Accessories
Personalisation and bespoke commissions are at the heart of the Veritas story, and bespoke leather accessories and gifts are the perfect vehicle to express your company's unique outlook.
Our clients take pride in the individual personalities of their companies, and organisations and want to give gifts which leave a lasting impression and remind their recipients of something about the giver. From notebooks and wallets to leather trinket cases, card cases and travel essentials, a bespoke leather gift leaves that lasting impression.
When it comes to quality, it's hard to beat an English saddle leather, tanned in the traditional way, and leaving that rich scent which belies its origins in a far-gone era. English leather-goods also maintain those traditional methods handed down over centuries of pattern making, cutting with knives, sampling and embossing with hand operated Victoria presses that ensures a high-quality finish.
But these beautiful items don't suit every client. For customers with a technical or contemporary outlook like McLaren or Mercedes F1, it's all about using the most up-to-date technology and mirroring the superb detail and materials used in the cars themselves.
When making wallets and logbooks for this client, Veritas was asked to use the actual leather used on the car seats, complete with the intricate geometric pattern that ran across every centimetre of that seat.
We made enormous blocking dies in that case just to ensure a regular blind emboss across the face of the pieces after importing the original leather from Germany. The result was a collection of durable and very modern looking leather pieces, with a stylish touch of high-tech running through its DNA.
From the white heat of the F1 racetrack to the magnificent glens and greens of Gleneagles. The two environments could hardly be more different, and in 2014 Veritas were delighted to be appointed as the Official Supplier of luxury gifts to the Ryder Cup.
That year, it was Europe's turn to host this prestigious team tournament in the magnificent surroundings of Gleneagles in Scotland. Part of our brief was to create an exclusive range of leather accessories to commemorate the event. We used black calf leather as the canvas for these wallets, card cases and accessories and blue contrasting stitching to pick up the colour scheme of the European Team.
The unique identifying features, however, were a repeat embossed pattern of the Ryder Cup Trophy and metal plaques of the iconic Ryder Cup Shield. These unique little leather accessories were much sought after and sold out during the event.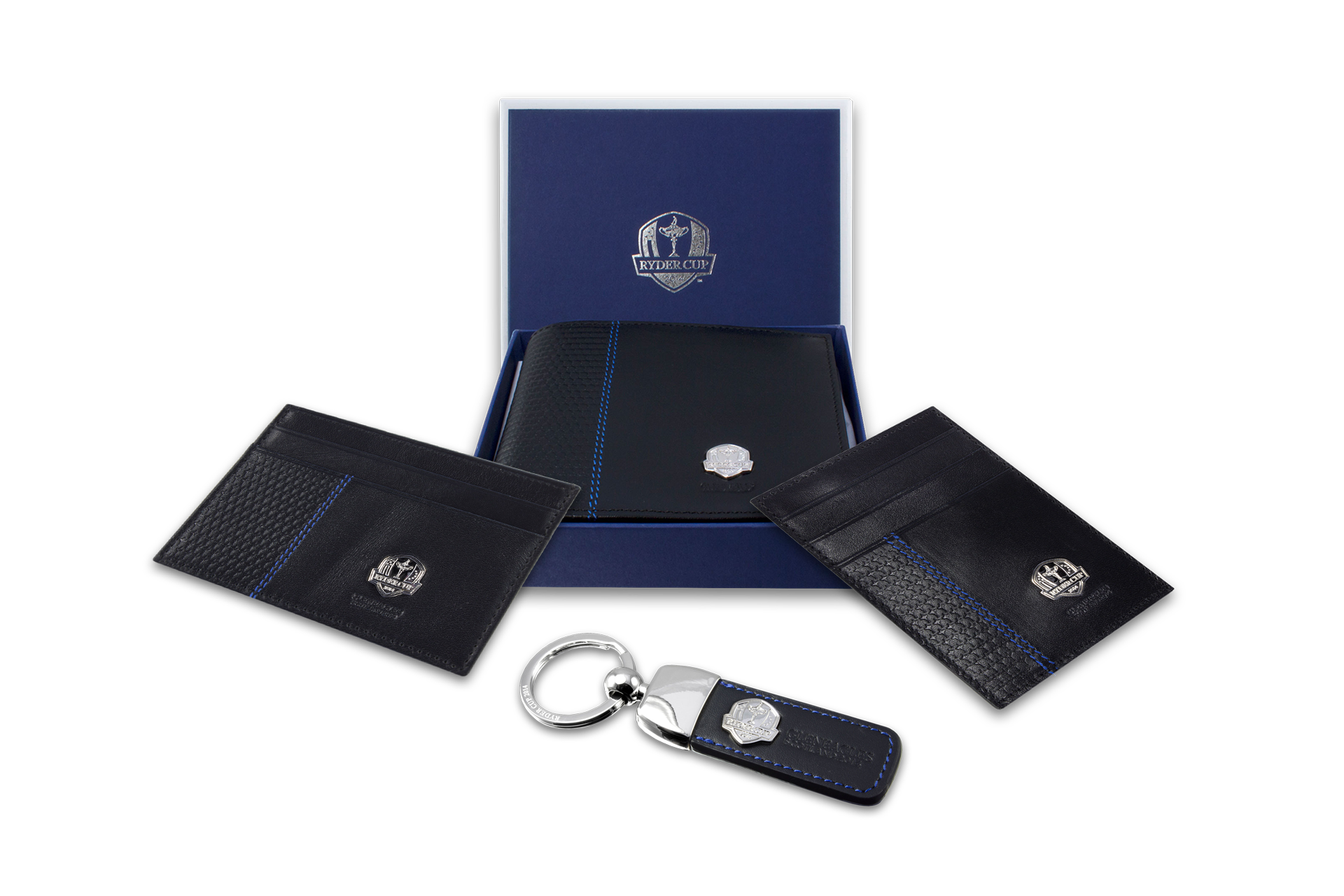 Sometimes more really is more, and the client decides on a gift box of two leather designs, each with a different functionality.
McLaren asked Veritas to design this gift set featuring a black calf leather keyring displaying their simple contemporary "Tick" motif alongside a simple 5-pocket credit card holder.
Both items sat side by side and were presented in a 100% recyclable branded gift box. If you can't choose between, why not have both!

Breitling watches is in many ways a contemporary brand, but it takes its inspiration from its origins providing aeronautic timepieces.
This is reflected in the ways the company communicates in its gifting. This travel adaptor – certainly a useful accessory for the air traveller, is presented in a decidedly retro looking leather case with branding taken directly from the client's archive. It's a modern gift yet has a feeling taken from the pioneering age of air travel.

These are just a few of the intriguing bespoke gift briefs we receive every year at Veritas, which keep our job varied and fascinating and certainly never dull.
At the end of the day, our clients are looking for only a few simple things – stand out ideas, creativity, quality and attention to the finer details – and of course, value.
If you would like to find out more about how to create bespoke leather accessories, our team at Veritas would be happy to chat through the process.
If you would like more information, please contact us using the details below or use the enquire button