Since the 19th century, when Carl Fabergé made his famous silver and gold eggs and decorated them with brilliant colours, the art of applying enamel to precious metal has been associated with discerning luxury.
By cutting lines into the metal in a process called, "engine turning", repeated geometric patterns were traditionally made which allowed light to shine through the transparent enamel, catching the metal at different angles and creating the attractive lustrous glow.
We've written before about how enamel is widely used in our business to create bespoke cufflinks and lapel pins which companies like to decorate with their own colour palettes, but we are one of the few if not the only company in the UK that makes picture frames and silver boxes decorated with enamel colour.
We are often called on by companies and institutions to create unique gifts in the specific Pantone reference of the client. The iconic luxury hotel in London, The Berkeley, situated on the edge of Knightsbridge, gives an enamel Veritas picture frame to some of its important guests as a memento of their stay at the property. The frames display the pale blue colour scheme of the hotel's livery and are gift wrapped in a matching pale blue gift box with silver foil blocked logo. What a great leaving gift!

Veritas enamel boxes come in two sizes, an 80 mm round trinket box with an engraving space to the lid and a 115 x 80 mm hinged rectangular box, with a rectangular engraving space on the lid for personalised initials or an engraved logo. Both can be customised in your own colours for corporate orders, and diamond or laser marked with a crest or motif. We hold some of these colours in stock and these reflect some of the most popular colourways, whilst custom design colours are manufactured for our clients from scratch.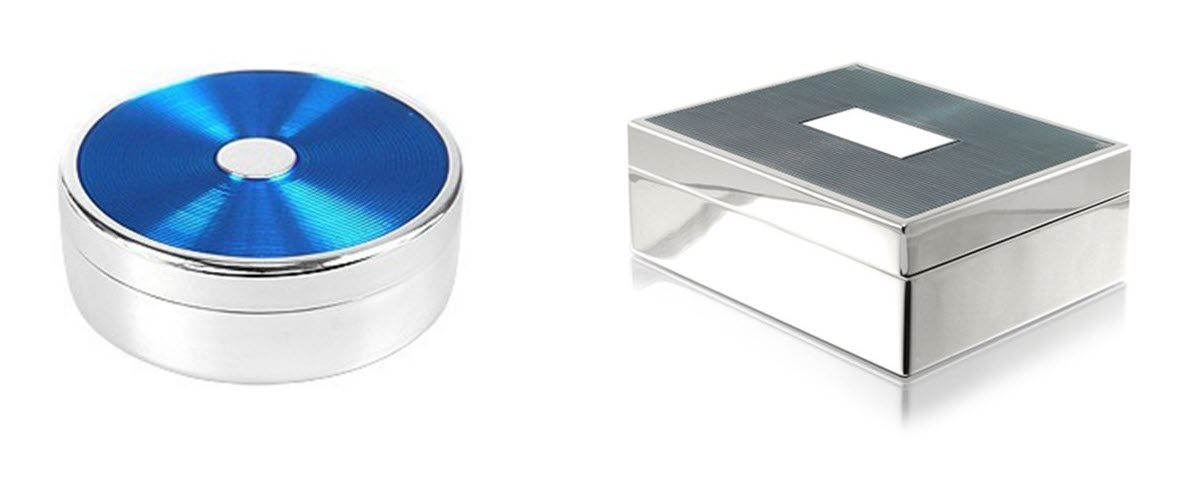 Nothing achieves a sheer depth of colour quite like enamel when it's applied to silver and the endless variety of colours and the ability to even choose your own, is one of the most attractive features of the boxes we produce.
The same is true for the picture frames, especially the enduringly popular 7×5" format which we always have in stock in popular colours like navy blue, grey, purple and antique gold.


For those who want something totally unique to their company, you can take advantage of our bespoke design service and create a box entirely to your own specifications.
We have recently created this large silver and enamel desk box for an international corporate client. This large silver box measures 210 x 150 x 70 mm. It is decorated on the lid with a repeated geometric pattern stamped into the metal, which shines through a carbon blue enamel colour.
It includes a cedar wood interior and has a locking mechanism. This stunning box required its own tooling to create the shape and form the engine turned pattern in the metal, and took a total of 8 weeks to complete from receipt of the initial brief.
The client is involved in the process at every stage, from initial brief and design drawings right through to sampling the precise shade of enamel colour realised from their first concept. The final result was a fantastic and unique object which delighted the client and was used to gift to important dignitaries and guests.
If you would like to find out more about how to create bespoke gifts in silver or silver and enamel, our team at Veritas would be happy to chat through the process.
If you would like more information, please contact us using the details below or use the enquire button