Harry Kane's Top Goalscorer Trophy
How do we make that?
In 2023, Harry Kane became the top goalscorer for Tottenham Hotspur and Veritas was commissioned to design a trophy to mark the occasion, based on one of Harry's football boots.
I have to admit I am from an age when all football boots were under a tenner and the ball itself was all leather, and when it rained absorbed water until it metamorphosed into a large wet stone eager to crush your toes.
Forward light years and a pair of Harry Kane's boots weighs a feather and costs…who knows what? It was therefore with some trepidation that we were sent a pair of Harry's boots with a brief to replicate them in every single detail and reproduce them in sterling silver, 10 kilos of sterling silver to be precise. Not a single detail was to be omitted, from the distinct way in which he ties his laces to the names of his three children printed on the side of the boots.
How do you make that?
Scanning Process
The first thing to do is scan the actual boots themselves and create a 3D file, something that still seems very hi tech to me, but allows you to manipulate the image in cold blue light on your computer and examine the view from every conceivable angle.
Creating the Mould
Once you are satisfied with the imagery, you can create a rubber mould resembling a football shaped marigold glove.
From this, the boot is then cast in molten sterling silver. At this stage, it is not quite the precise finished replica desired, and it's time for the hand engraver and the chaser to literally carve out and etch in all the important details using tools that have been used by silversmiths in England for hundreds of years. This work is all done by hand and takes many hours to complete.
Finishing & Mounting
Once finished, this solid silver 10 kg boot has to be carefully mounted on a column that can bear its weight and sunken into the wooden plinth. A silver plaque is heated up to give it flexibility and wrapped around the substantial wooden plinth. Onto this, each one of Harry Kane's record-breaking 267 goals is engraved, including the date and the unfortunate opposition.
He became Tottenham's all – time goalscorer, fittingly against arguably the best team of the current age, Man City.
The commentators hailed, "the goalscorer supreme, Harry Kane, third behind Shearer and Rooney to the double century!"
It was a real pleasure for Veritas to make this award, now an iconic piece of football history and yes, we did have to return the real boots, and I am assured that no one tried them on along the way.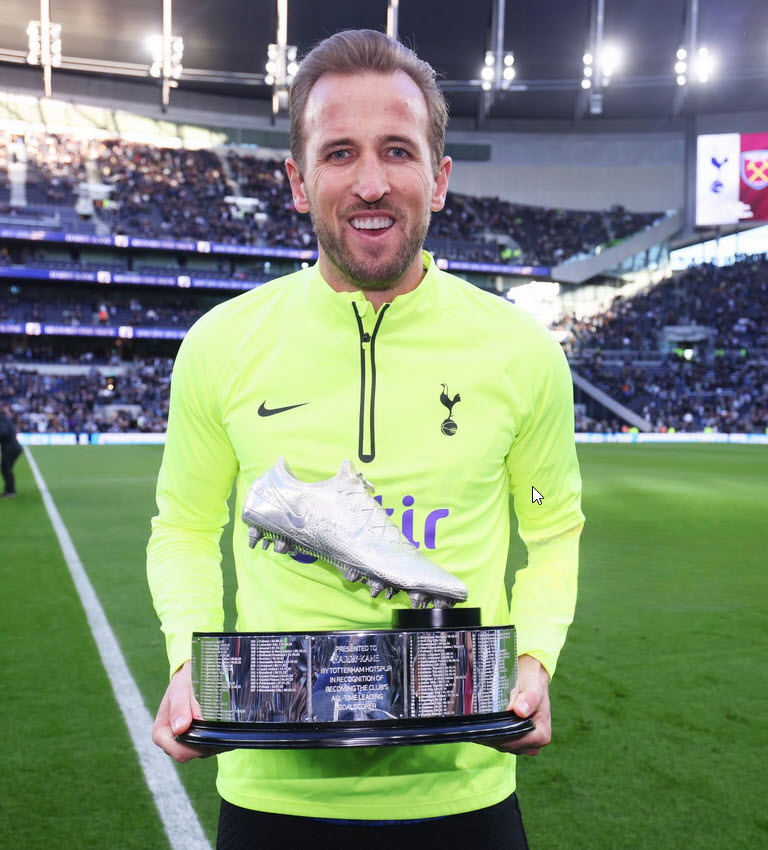 If you would like to find out more about how to create bespoke cufflinks, our team at Veritas would be happy to chat through the process.
If you would like more information, please contact us using the details below or use the enquire button