Employee Recognition
Recognising your employees achievements and milestones are vital for any successful business.
Whether you are hosting an annual long service awards ceremony, or rewarding staff who have excelled in a particular area, an employee recognition gift is a powerful and thoughtful way of saying thank you to your most important assets.
Veritas have a collection of employee gifts which are held in stock and can be branded with your company logo and a commemorative message.
See below some examples of our favourite employee recognition gifts. Click enquire and a member of our team will be in touch to start the simple employee gift process.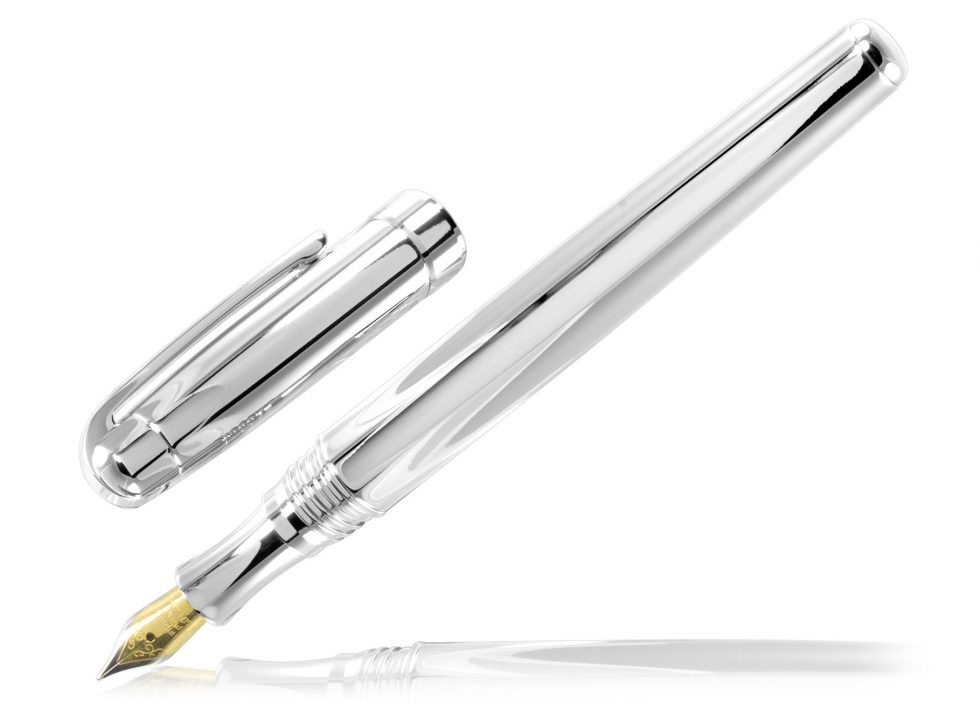 Sterling Silver Pens
Our sterling silver pens, which are available as ballpoint, rollerball or fountain, are a hugely popular milestone gift.
Chosen for its strength and beauty, sterling silver has a lifetime of durability.
Adding a logo and commemorative message ensures the lucky recipient will never forget who and why it was gifted to them.
Our bespoke gift design service continues to be a hallmark of our business. Whether seeking a unique corporate gift for a large audience, event and retail, or an individual one of a kind commission such as a trophy or award. Veritas helps create and realise our clients ideas by combining classic design with contemporary luxury materials.
Our Bespoke Design Process
Listen
| | | |
| --- | --- | --- |
| | | We listen to your needs and parameters before putting pen to paper. Understanding your company's style and culture, any brand guidelines, your ideas and vision for a gift and of course the nature of the gift requirement is critical in successfully generating a product design that really works for you. |
Design
Veritas Gifts provide a professional and bespoke design service that is free of charge, prior to any commitment to order by our clients.

Following either a call or meeting to understand exactly what gift and design style would suit you and your needs best, we turn our heads to generating gift designs that would be both hugely impressive and commercially viable.
Visualise
Being able to see an accurate representation of a proposed gift is of vital importance to our client's needs.
With the use of state-of-the-art digital technology, computer-aided design (CAD) and 3-dimensional software, Veritas can provide our clients with a product visual of a chosen bespoke gift that is closer to the physical product than has ever been possible before.
Samples
Having decided on a bespoke gift design, and after approving images and artwork proofs of your product, Veritas highly recommends and offers the commissioning of a pre-production sample of your chosen gift.

Whilst digital files and drawings are perfect for arriving at a preferred solution to your requirements, producing a sample of your gift allows for factors other than appearance, such as weight and functionality, to be truly assessed. The feel of a gift is tremendously important, and often can only be appreciated by having the product in hand, by using the product for function and feeling the quality of the materials and gift design achieved.
Timelines
Precise planning of your perfect corporate gift is an essential part of the design process, particularly when creating something bespoke.

At Veritas, we understand that timings can be critical. The vast majority of our corporate clients will be designing a gift that serves a special purpose. There are many gift delivery dates that simply cannot be moved, such as an event date that requires gifts for an historic celebration, a global sporting event that will never be 'pushed back' or maybe a worldwide product launch that requires the distribution of gifts to truly commemorate.
Designing or choosing your next corporate gift couldn't be easier
For any business or volume order enquiry, click 'Enquire' below or call us on 01483 281417 and a member of our corporate sales team will contact you shortly.
We would be delighted to hear from you.